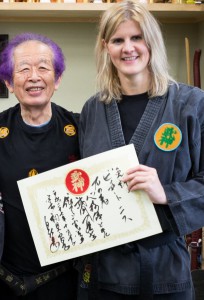 Beate Sensei started her Judo training at the age of seven. She trained Kyokushinkai Karate at the same time. At the age of seventeen she experienced about Bujinkan Budo Taijutsu and has been training Bujinkan since then without interruption.
She has been improving her skills by attending all the European Taikais, training with international instructors and by her periodic attendance of the Honbu Dojo in Japan.
In 2005 Beate passed the sakki test at the first go. During the Kunoichi-Taikai 2013 in Japan she was awarded with the 15th Dan by Hatsumi Sensei. In 2014 she was honored with the Golden Dragon Medal due to her achievements in long years of training.
For several years she trained Nihon Koruy Iajutsu in addition to the normal training.
She is leading the Bujinkan Kami No Ocho Dojo Berlin independently; one of the oldest Dojos of Berlin.
Beate studied ancient Japanese and European Healing arts.
She works for the Allianz insurance company.